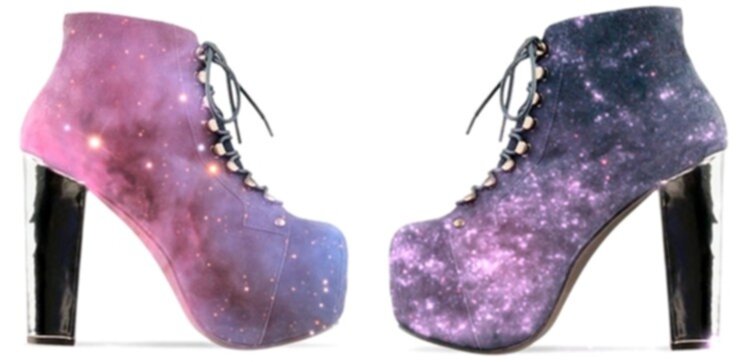 images taken from google search
hey loves, i am so sorry for not being able to update these few days!! that is, hopefully until wednesday, because i am really busy tomorrow, wednesday i would be mugging for a TOK/ARC paper, thursday and friday i have specialised arts classes and end late.
anyway i took some time out of work a while back and i saw jeffrey campbell's lita in cosmic (screams!)on SgFlea today and i got so excited! i really wanted those, and hopefully i am able to purchase it in time,thats what i thought til i got told its made of leather. sigh, that means i can't get it. i know it'll burn a ginormous hole in my pocket, but... it would have been worth it - don't you think? i know i'm only fourteen, actually fifteen this year, and in actual fact i would probably only wear it once or twice and it costs hundred of dollars and .. tons of excuses not to get it, i find that it's something i always wanted - to own a jeffrey campbell pair my own. i just love looking at the patterns, the prints, the shape, the everything that makes up the shoes. oh, i think i'm in love. another reason why i
am suddenly so interested in the topic of shoes is because i sam running low on the new and i've hit the maximum in my old. time for a major clearOUT. i was this close to getting them, this close because i was going to pay immediately for i have been saving up and working part-time for a pretty long time. guess i should be going back to studying now:( or dreaming about shoes shoes oh, and i forgot to mention this:
#1,#2 & #3 jeffrey campbell's lita in cosmic collection
approx cost in sg (incl of shipping) : $263
i know a girl who are selling these because i was going to get it from her, interested buyers to contact me and i will let you know her mobile number
#4 unknown, - i forgot! :(
#5 jeffrey campbell christmas edition with mule platforms
ps: will be holding the GIVEAWAY THIS WEDNESDAY, g'luck and see you back here then!